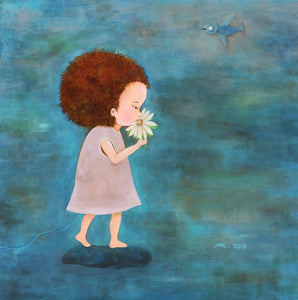 Michelle J Chu Oil on Canvas 91.4 x 91.4 cm
Regular price $9,000.00 Sale
2018
Oil on Canvas
91.4 x 91.4 cm
Artist Note - Michelle Chu
My artwork simply epitomizes my daily routine.
I often become extremely delighted when my viewers are inspired through my work which shows day-to-day chore that my viewers see through my intention involuntarily, and to put a little smile on them who feel and share the common ground of my expression.
I consistently struggle with myself.
I put in a great effort to my artwork in order to extract my strongest and honest gut feelings because I believe that acknowledging and admitting my weakness would be the most effective means to minimize the sadness and my agony.
Although I am unable to predict how my work will progress, I often ask myself one important question: Have I really been working on my art solely for seeking a higher ground?
The primary objective in my artwork is to cherish and value the initial motivation that initiated a spark during my incipient era. I will continue to strive to display courageous attitude, honesty and constructive thinking to myself and my viewers through my artistry.